Treasury Management Software for Building Societies
Enhance your society's performance whilst minimising risk
Having well-documented treasury policies is only half the battle when it comes to minimising risk and improving control over your society's interest rate exposure, cashflows and balance sheets. As building societies find reliance on spreadsheets and out dated legacy solutions becoming ever more time consuming and risky to manage, it's essential for businesses to invest in technology powerful and flexible enough to transform operational workflows, provide in-depth business intelligence and enhance real-time trade monitoring capabilities.
Additionally, the fact that building societies are subject to SMR and the upcoming MiFID II changes means there will be a need to have systems in place that demonstrate compliance. This will be a major factor in building societies' choice of treasury management software solution.
Eurobase has been providing treasury software solutions to businesses for over 25 years, helping them to stay ahead of the market and allowing them to keep pace with the increasing burden of regulation, supervision and market changes. With such a wide range of institutions choosing siena, we have become one of the most trusted and reliable treasury management software providers in the market.
Find our more about siena's regulation and compliance capabilities, including supporting your MiFID II compliance here:
Functionally rich, siena provides:
A modern and robust system with full coverage of all treasury asset classes & instruments
A truly real-time solution including all positions, cashflows, limits, revaluations and reports
Comprehensive management information and reporting supported by full drill-down capability
A future-proof solution that minimises impact on your operations as the regulatory landscape evolves
Compliance with FSA and BOE requirements
Seamless integration within your existing solutions architecture with standard interfaces to all major external solutions
siena's position within a treasury management operation
siena sits at the heart of the treasury landscape, taking external rate feeds, deals and data from downstream silos to provide visibility across an organisation's cash flows, exposures and liquidity requirements. With real-time information, treasurers can make informed decisions to manage risk, positions, and provide hedging strategies to better manage their balance sheets.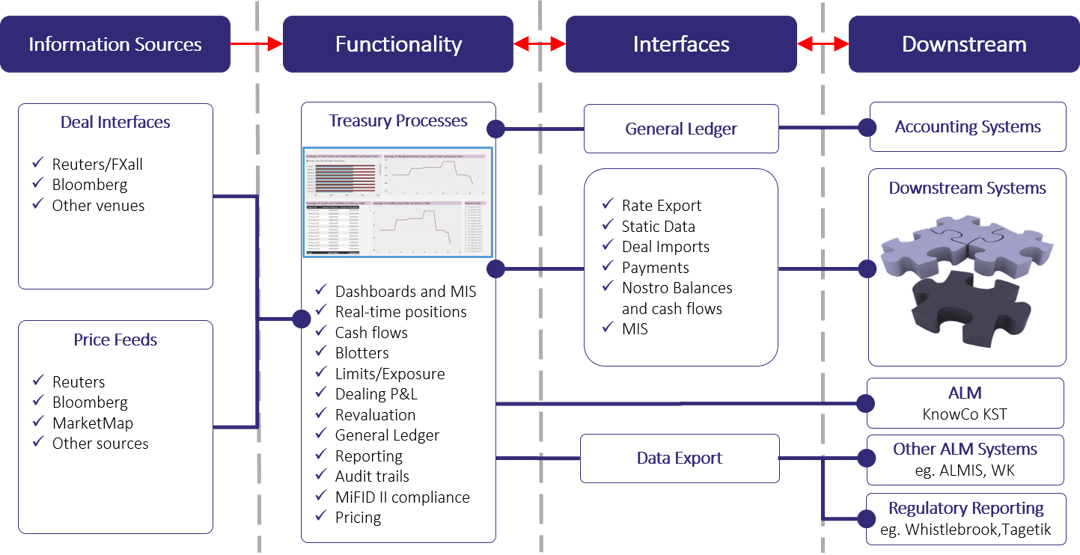 Key Features of siena

---
A selection of our clients