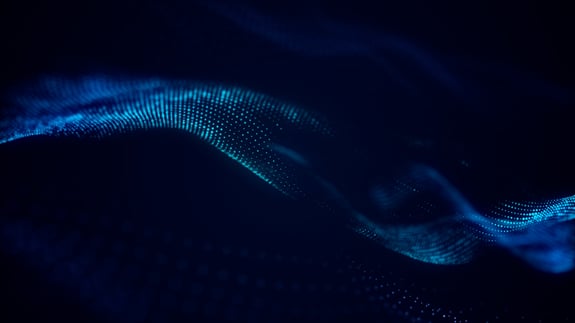 Commercial Insurance Platform
Synergy2 is a modern end-to-end solution for commercial insurance, flexibly handling the processing of complex risks for Lloyd's syndicates, MGA's and insurers.
Embrace The Digital Future Of The Insurance Market
Exchange information with your distributors, and business partners using traditional bordereaux, shared portals, and/or the next generation of market messages supporting ACORD standards.
Align your data processing to comply with best practice, state regulations and/or the Lloyd's Blueprint.
Accept and exchange information with brokers and London Market placement services.
Empower Decision-Making Through Real-Time Analytics & Management Information
Synergy2 allows information from across the lifecycle to be analysed and shared through a fully customisable data analytics suite.
Display KPIs with complete drill-down capability delivering real-time information for the boardroom and all business departments.
Automate the creation and delivery of standard data across the business, and produce regulator/Lloyd's reporting from a single, reliable source of data.
Improve Operational Efficiency Through Business Automation
Capture your key controls across the lifecycle, such as underwriting guidelines and claims authority limits, in a powerful yet flexible workflow.
Pass data seamlessly across the organisation while still enforcing the segregation of duties.
Automate data capture and improve the quality of information across the business.
Delivering Operational Excellence For Commerical Insurers

End-to-End Lifecycle
Synergy2 supports the full policy lifecycle of quote, bind & renew, and claims management.

Data Analytics
Visually display KPI's and provide full drill-down capability, ensuring fingertip control across all operations.

Underwriting Risk
Management
Determine the optimum risk retention, perform "what-if" analysis and be alerted to business anomalies.

Aggregate & Exposure Management
View limit and aggregate erosion, picture your risk exposure, monitor capacity allocation, calculate your forecast earned position and net claim retention.

Credit Control
Detailed technical accounting underpins AP/AR processing with intelligent cash matching and bank account reconciliation.

Integration
Share information with your enterprise & business partners through Synergy2's RESTful web services. Synergy2 is also aligned to EBOT, ECOT and ePlacing messaging.
Synergy2 Ecosystem
Synergy2 is based around a single source of data, which provides real-time sharing of information across all capabilities.
End-to-end core platform
Global operations coverage
Ecosystem of emerging technologies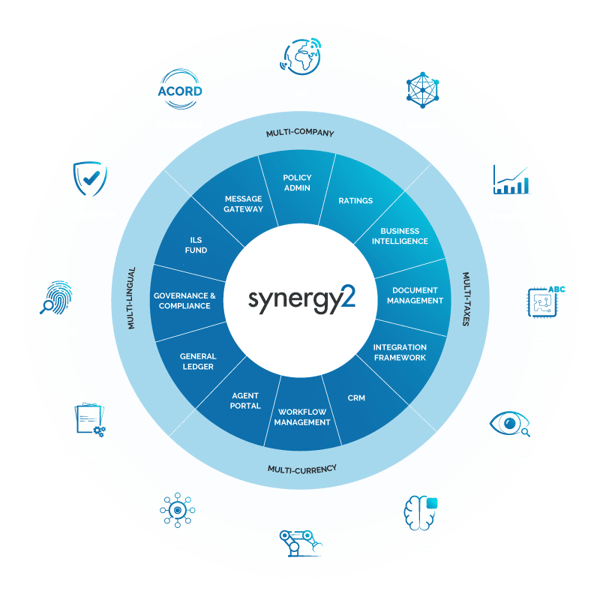 Easy Engagement From Our First Conversation
Meet with us
Arrange a call with the Synergy2 team, come and meet us, discuss your issues and thoughts.
Work with us
Lets get our teams together and look at how we can help overcome your challenges and identify the highest risk vs the quickest wins.
Onboard with us
We'll work with you and any of your chosen 3rd parties to improve your performance and regain control using our cloud-based platform.
Working With You To Build Strong & Long-Lasting Partnerships
Experienced
We have extensive experience of (re)insurance, captive insurance and solution delivery supported by a strong partner network.
Understanding
We understand the challenges you face; we've been in your position, and we can share how we dealt with those challenges.
Collaborative
We work with you as a strategic partner to deliver the best outcomes for you, your organisation and your teams.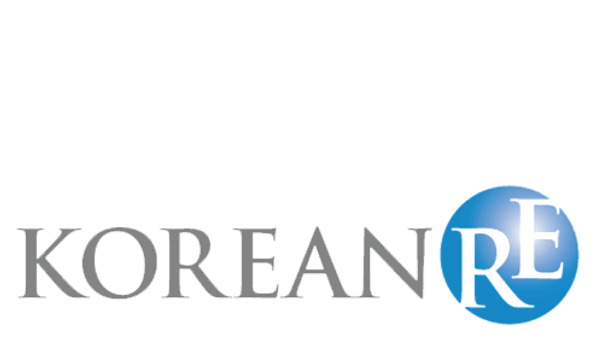 (Re)insurance IQ
Get up-to-date intelligent (re)insurance insights from our market experts. Follow us on LinkedIn and don't miss out on our upcoming blog posts.