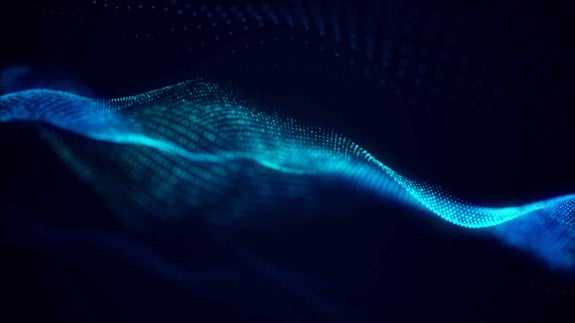 ILS (Re)insurance Solution
Synergy2 is a comprehensive web-based solution for reinsurance operations, covering the end-to-end processing cycles for underwriting, claims, retrocession and accounting. Capturing the collateralised agreement linked to Alternative Risk Transfer contracts is key to delivering a single version of the truth that supports a complete suite of operational and business performance data analytics.
Investing in The Right ILS Reinsurance Technology
Companies offering Catastrophe Bonds and other forms of Assured Risk Transfer are quickly realising that investment in the right technology is critical in order to effectively manage their cash flow and to ensure they can meet these specialist market challenges.
Tracking the status of the different entities involved in your arrangement, and accounting for various financial funding arrangements can be a complex issue. Synergy2 provides an automated service that will do all of this for you. It will even publish and distribute information to the correct entities.
Focus on Your ILS Business - Not Your Data
Synergy2 brings a wealth of real-time management information and business intelligence to your fingertips - allowing you to focus your time on your business rather than your data.
Reinsurance Software For ILS Operations
ILS operations are quickly discovering that the use of a central register is vital to record specific details of shareholder participation within each fund and contract arrangement.
Synergy2 is a flexible, fully modular ILS reinsurance software solution that provides you with views of data across funds and shareholders, ensuring vital information is at your fingertips when you need it.

Manage Your Customer Relationships
A single unified view of your customers, including managing activities and opportunities.

Picture Your Business
View limit and aggregate erosion, picture your risk exposure, monitor capacity allocation, calculate your forecast earned position and net claim retention.

Minimise Underwriting Risk
Determine the optimum risk retention, perform "what-if" analysis and be alerted to business anomalies.

Promote Operational & Cost Efficiencies
Cut transaction & processing times and reduce costs. Grow your business without increasing headcount.

Streamline Your Operations
Straight through processing and electronic messaging for greater flexibility to aid growth.

Seamless Integration
A complete business platform that allows you to integrate with other applications.
Synergy2 Ecosystem
Synergy2 is based around a single source of data, which provides real-time sharing of information across all capabilities.
End-to-end core platform
Global operations coverage
Ecosystem of emerging technologies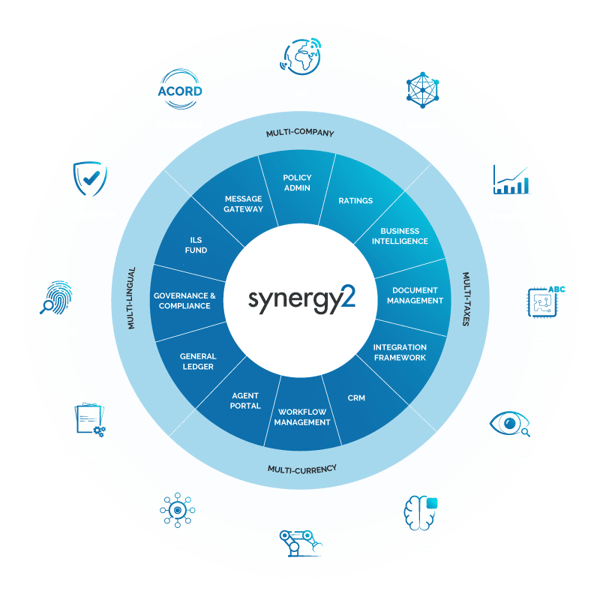 Easy Engagement From Our First Conversation
Meet with us
Arrange a call with the Synergy2 team, come and meet us, discuss your issues and thoughts.
Work with us
Lets get our teams together and look at how we can help overcome your challenges and identify the highest risk vs the quickest wins.
Onboard with us
We'll work with you and any of your chosen 3rd parties to improve your performance and regain control using our cloud-based platform.
Working With You To Build Strong & Long-Lasting Partnerships
Experienced
We have extensive experience of (re)insurance, captive insurance and solution delivery supported by a strong partner network.
Understanding
We understand the challenges you face; we've been in your position, and we can share how we dealt with those challenges.
Collaborative
We work with you as a strategic partner to deliver the best outcomes for you, your organisation and your teams.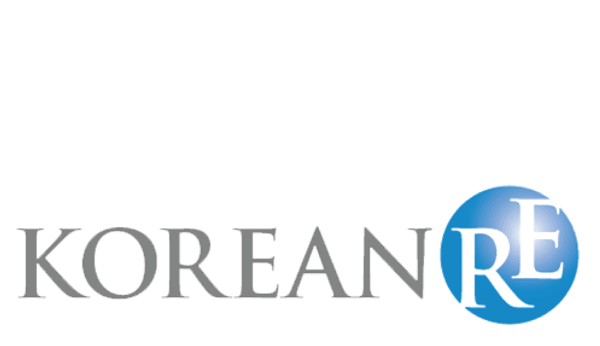 (Re)insurance IQ
Get up-to-date intelligent (re)insurance insights from our market experts. Follow us on LinkedIn and don't miss out on our upcoming blog posts.