Regulatory & compliance software solution
The quality of data and processes in financial institutions is under scrutiny by regulators. Financial institutions are looking for tools that allow them to address not one, but several regulations at one time, including:
MiFID II - Markets in Financial Instruments Directive II & MiFIR - due to apply within EU member states 3rd January 2018
PRIIPS KIDs - Package Retail Insurance based Investment Products, Key Information Documents - due to apply 3rd January 2018
SMR - the Senior Managers Regime - in effect from 7th March 2016
MiFID II is intended to address many of the gaps in European capital markets operations and transparency that were exposed in the 2008 financial crisis. Together with MiFIR, MiFID II will introduce broader transparency measures, and operational and compliance requirements aimed at shoring up investor and consumer protection. MiFID II and MiFIR will change the way banks around the world do business —particularly with respect to the scope of data, communication formats and records that must be maintained.

While the implications of the regulations on financial institutions are very broad, they pose unique new requirements in the areas of recordkeeping, trade reconstruction and market abuse prevention. One key recommendation is that banks should take a "platform approach" to record keeping, trade reconstruction and market abuse detection as the most reliable, efficient and cost-effective means for demonstrating MiFID II compliance readiness. This approach enables firms to compete effectively in a climate of rigorous client due diligence, while providing evidence of the culture of compliance that regulators demand.
To help you prepare for MiFID II compliance, we have produced a white paper detailing what you need to know. Our white paper brings out the latest views from David Woolcock - member of the Market Practitioners Group for the FXWG at the BIS, Chair of the Committee for Professionalism and Vice Chair of the ACI Foreign Exchange Committee. David is Eurobase's Director of Business Consulting and is often quoted in the press as an expert on regulation, best practice and market conduct. He oversees the production of the ACI Model Code, which is used by regulators & supervisors, central banks, banks and market participants globally.
Transform your business with real-time data
To meet the challenges brought by the changing regulation, the siena software solutions allow banks - especially those with batch-based systems or slow response times - to meet critical SLAs in terms of reporting data and the timing requirements within the MiFID II framework. The software covers the order and trade lifecycle including everything from an initial conversation or marketing opportunity, order capture right through to exercise, execution and settlement of the trade. siena offers pre-prepared Pre & Post Trade reports which can be retrieved by a click of a button, well within a 15 minute window.
siena is a software solution designed to address MiFID II and other regulatory regimes. It supports the three pillars of MiFID; Protection, Control and Proof by addressing the following key topics:
Client oversight
Appropriateness and control
Pre-trade compliance
Record keeping and telephony
Trade handling
Post trade disclosure
Order handling
Best execution
Client reporting
Market data reporting
Transaction/trade reporting
Systemic internalisation
How can siena Regulatory Reporter help you?
Comply in real-time
The siena software solution delivers real-time monitoring and processing, coupled with highly flexible business rules. This allows your compliance team to deal with limit, execution policy and trading control violations immediately. Additionally, siena supports real-time connectivity to your existing limit keeping, AML and KYC systems.
Optimised data at your fingertips
Neutral mid-rate reference prices

and volatilities are recorded for all deals and orders across all instrument classes based on the user-definable

mid-rate reference price

source.

Neutral mid-rate reference price

data is stored for all lifecycle events including but not limited to option exercise, assignment and expiry and order actions.
Real-time post-trade neutral mid-rate reference prices recorded and available for up to 7 years.
Best Execution
We understand our clients' needs to meet their fiduciary obligations whilst growing their business. For that reason, we ensured siena helps organisations transact with their customers within the terms set down by the best execution policy and triggering alerts when a client attempts to trade outside of the policy. You can have the peace of mind to know any price variances authorised by your team are in-line with your best execution policy and checked for any potential latency issues.
Compliance records begin from the first conversation or quote right through to final execution or rejection by you or your customer.
No need to replace your current software systems
siena operates in a primary or secondary role for many of our clients' systems. You decide if you want siena or your current system to drive the order workflow. If you connect siena to your existing systems, you can configure it to adapt to your existing workflows, whether for orders or deals. You are in control.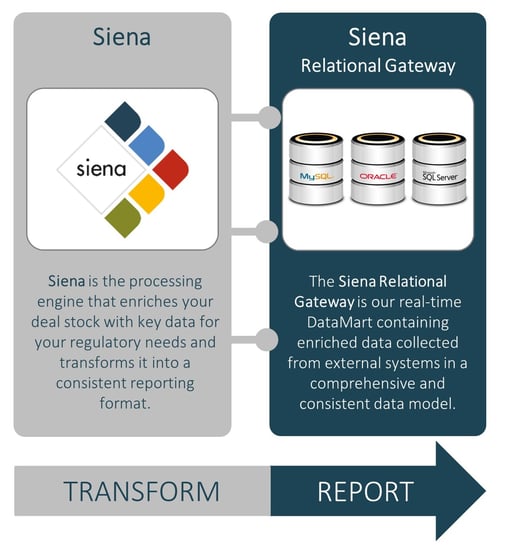 Key benefits of siena Regulatory Reporter software solution
Real-time information through active blotters and reports.
UTC timestamping across all orders, deals and lifecycle events.
Repository for all quotes and deals, however executed.
Straightforward reporting from a harmonised DataMart.
Integrated holistic contact management.
Supports your best execution policy.
Monitors best execution breaches in real-time.
Pre-trade customer segmentations.
Market neutral benchmark rate access.
Pre, at and post trade reporting dataset.
Reconciliation with the trade repositories.
Key features of siena software

---
A selection of our clients