Cross Border FX Payments
"Cross border payments represent 1 out of every 5 payments and account for 42% of value."
- Glenbrook Partners & The Institute of Financial Operations, Cross Border Payments Perspectives
In today's digital world customers expect a slick and intuitive experience from every website and programme they use. For cross border or domestic payments, platforms must offer an excellent customer experience, security, streamed live rates, competitive pricing and best execution in order to achieve the desired deal completion levels.
Banks and other financial organisations have been relying on Eurobase for their software solutions for over 25 years. With such a wide range of clients choosing our siena platform to help manage their operations, it's no wonder we are one of the most trusted providers in the market.
Functionally rich, siena provides:
Fingertip volatility controls
Auto deal cover
Comprehensive position keeping
Automatic hedging capabilities
Real-time exposure and limit checking
Ease of configuration and deployment
Ease of integration to all major back office systems
Real-time insight into customer activity
Multi-factor authentication
Multi Branch & Multi Entity
Flexible MIS & reporting
Real-time blotters, cash flows, positions and P&L displays
---
siena's role within a cross border payments operation
siena offers a customer centric, web-enabled payments solution. Real-time FX rates and transparent fees allow you to retain full FX and operational control and stay ahead of the competition.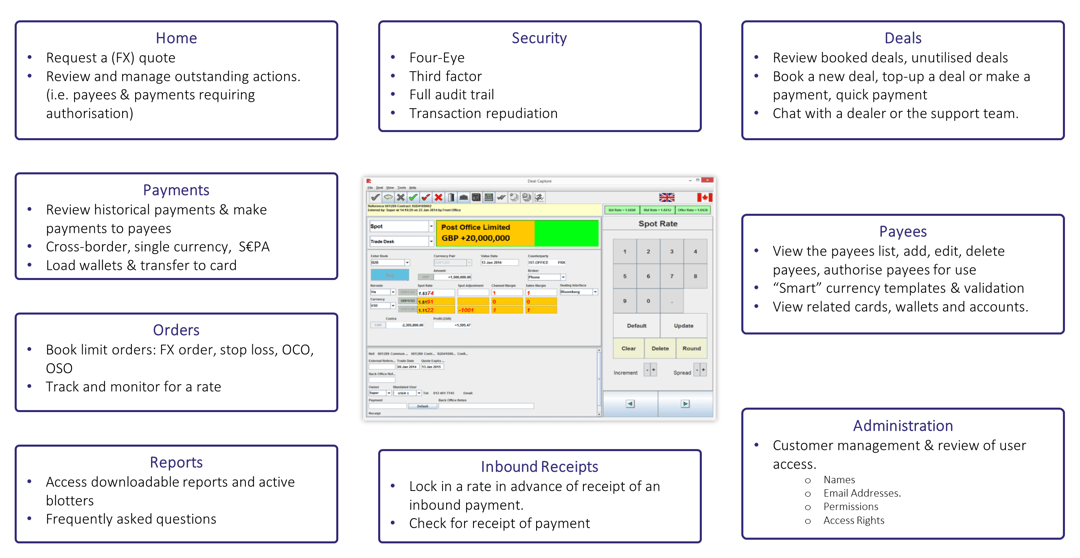 Key features of siena

---
A selection of our clients