Complaints Management System
Access the information you need whenever you need it.
The UK's Financial Conduct Authority (FCA) set a deadline of 30th June 2016 for financial institutions to have systems and processes in place to comply with their new regulations regarding the handling of complaints.
Complaints handling is not a new concept, however regulation now enhances and formalises many aspects of managing customer complaints. Financial institutions must have a fully auditable complaints management system in place for anyone including retail customers, branches, agents, policyholders, TPA's, coverholders, brokers, etc., to raise complaints and queries.
It is now the direct responsibility of UK financial institutions to ensure that they have solutions and procedures in place to ensure they both comply with the regulations and deliver timely reporting of complaints to their regulating bodies.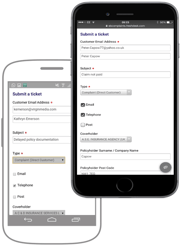 A Complaints Management System that avoids complexity
Our Complaints Management System, Eurobase Complaints Manager, is an intuitive web-based solution that can be accessed anywhere and at any time.
The system easily incorporates the templates and process management steps you need to achieve compliance. The processes and details required are very clear to follow and vary depending on the type of complaint or query.
This ensures you not only inform your regulator of all complaints raised but that your customer's complaint is dealt with in a professional, timely and consistent manner, irrespective of their preferred method of communication with you.
How do you benefit?
You have the ability to easily export all the relevant data to ensure that you achieve compliance with FCA regulations and guidelines. The Eurobase Complaints Manager software also gives you:
Integrated service levels, with complaints response and resolution targets
Direct access for your customers and/or agents via the online portal
Integrated email pickup, linking to active complaints
Multiple complaints handlers can work simultaneously (agent collision detection)
Definable groups and categories to help you manage your complaints
Advanced reporting to meet FCA/ESMA/Lloyds standards
Business rules updated in line with regulations
Notifications to inform your team members of specific actions to be taken
Notifications to inform you and your team of updates to your complaints
Configurable permissions to align to specific roles
Full integration capability to internal and external applications
Creation of standard response templates and automated processes
Confidential/anonymous secure data and workflows to aid in whistleblowing complaints operations
Multi-channel input
With the eurobase complaints management system, you can accept any source of communication to a single complaints handling system:

Full integration and easy to use software
You can have full integration from Eurobase Complaints Manager to:
Your existing banking platforms such as siena from Eurobase
Your Policy Admin System (PAS) such as synergy2 from Eurobase
Master Data Management (MDM) including connection to systems like GoldenSource®, ATLAS and BARS
Customer Relationship Management (CRM) tools
This integration allows you and your complaints handling team to automatically validate a request, as shown in the screen below.
Your customers will have easy access via a number of sources. Web entries are in accordance with the guidelines and templates required by the FCA, ESMA and Lloyd's. The pre-filled 'drop-down' menus help you quickly process your complaints by providing consistency in the way complaints are captured.
The system also validates locations and dates to help you progress complaints easily and intuitively.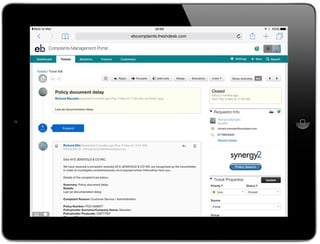 ---